On July 17, 2020, Congressman John Lewis passed away in Atlanta, Georgia, at the age of 80. Before serving as an esteemed member of Congress, Lewis was an active leader in the civil rights movement, and his spirit of activism carried on throughout his many terms as an elected representative. Here, btw takes a look at the life and legacy of this influential leader.
A Leader for Change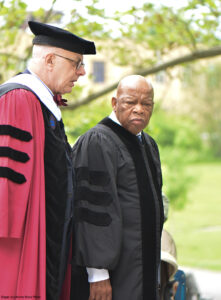 John Lewis was born in Alabama in 1940, as one of ten children to sharecropper parents. His early life made him very aware of segregation and of the different way people of color were treated in the North compared to the South. He attended college in Tennessee, and while there, became an active participant in the civil rights movement. As a member of the Nashville Student Movement, he fought to desegregate downtown Nashville, helped organize bus boycotts, and fought for voting rights for people of color. Lewis was arrested several times because of his protest actions. In 1961 Lewis became one of the original Freedom Riders. These civil rights activists were trying to end segregated bus seating in national transportation companies. They rode buses into the segregated South to confront these local laws and bring attention to this type of discrimination. While participating in the Freedom Rides, Lewis was badly beaten by mobs of angry white people, including being hit with a wooden crate. During one protest action, he spent forty days in the Mississippi State Penitentiary for his nonviolent activism.
In 1963 as chairman of the Student Nonviolent Coordinating Committee (SNCC), Lewis helped organize the March on Washington for Jobs and Freedom. He spoke at the famous event on the Washington Mall, as did Martin Luther King, Jr., who delivered his now-famous "I Have a Dream" speech. At the time of Lewis's death last week, he was the final living speaker from the March on Washington. Lewis also helped lead the 1965 Selma to Montgomery marches for voting rights in Alabama. On March 7 of that year, Lewis and another activist led hundreds of protestors across the Edmund Pettus Bridge in Selma, Alabama, where they were met by Alabama State Troopers, who attacked the protestors. Lewis suffered a skull fracture when a trooper hit him in the head with a night stick. The incident later became known as "Bloody Sunday."
A Leader in Congress
Lewis began his political career in 1981 when he was elected to the Atlanta City Council. He later went on to serve seventeen terms in Congress as the representative for Georgia's 5th congressional district. Lewis was a vocal advocate for voting rights, LGBTQ rights, national health insurance, and racial equality.
Representative Lewis carried his activist roots into his service in Congress. Every year for the rest of his life, Lewis returned to Alabama to retrace the Selma to Montgomery march. He also led sit-ins on the floor of the House of Representatives over issues such as immigration reform and gun safety legislation.
As a Congressman, Lewis played several important roles. He was a member of over forty caucuses, including the Congressional Black Caucus and the Congressional Progressive Caucus. He was senior chief deputy whip in the Democratic caucus. Lewis was also the recipient of dozens of important awards for his service, such as the Profile in Courage Award, the Four Freedoms Award, the Dole Leadership Prize, the first LBJ Liberty and Justice for All Award, and the Presidential Medal of Freedom, which was awarded to him by President Barack Obama in 2011. Lewis also received more than fifty honorary degrees in recognition of his lifetime of activism and service.
Dig Deeper Using what you read in this article, create a timeline of some of the important events in John Lewis's life.