Kere Wins Architecture's Highest Prize
Have you ever heard of the Pritzker Prize? It's the highest award in all of architecture–in fact, many people call it the "Nobel Prize" of architecture. It honors a living architect for significant achievement, and it carries with it an award of $100,000 and a bronze medallion. This year, the Pritzker Prize has gone to Diebedo Francis Kere from Burkino Faso. Kere is the first person from Africa ever to receive the Pritzker Prize.
Kere, 56, was born in the village of Gando in Burkino Faso, a landlocked country in Western Africa which borders Mali, Ghana, and the Ivory Coast. He was the first child in his community to attend school. Kere later went away to Germany to continue his studies. But he would remember this first educational experience in a hot and cramped classroom when he designed his first building: a primary school in his home village of Gando. The school, which Kere designed with input from many community members, ended up winning him his first architectural prize: the Aga Khan Award. This award identifies building projects that help areas with large Muslim populations. Since then, Kere has continued his mission by building other educational facilities in Burkino Faso.
In the eighteen years since winning that first award, Kere has designed more than just schools–and his work has been enjoyed all over the world. He has also designed healthcare facilities, parliamentary buildings, and even a temporary concert venue in the United States (for the Coachella Valley Music and Arts Festival in California). He is best known for his creative use of light, and for incorporating natural light into his projects in unusual ways.
Dig Deeper Visit Kere's own website to learn more about Kere's vision and current projects. Make a list of five interesting facts that you learn from your research.
Kyiv Returns to Normal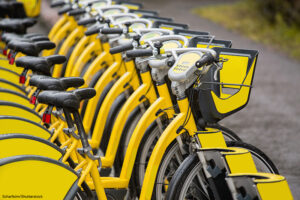 Last week, during peace talks, Russia pledged to de-escalate its invasion of Ukraine by first dialing back its military activities in the Ukrainian capital city of Kyiv. Although many experts are skeptical about whether Russia will keep its promises, this brief breather has allowed Kyiv to begin taking the first steps toward returning to a semblance of "normal" activity. For example, the Kyiv city government is encouraging bike and scooter rental companies to return to the city, so that residents will be able to get around. The city has also created a Google map showing which businesses–including repair shops–are open. More and more shops, cafes, grocery stores, and other businesses are re-opening every day.
The Russian invasion of Ukraine is far from over. However, the focus of the fighting has shifted eastward, away from Kyiv. Because of the pause in the fighting, schools have begun offering online classes for distance learning. The goal of this is to provide psychological support and a much-needed distraction for Kyiv's children, in addition to education. The food supply has increased, which has brought prices back down closer to normal.
According to the Pentagon, about twenty percent of the Russian forces around Kyiv have begun to withdraw. However, while Kyiv residents are eager to get back to life as usual and put the trauma of the past five weeks behind them, officials urge caution. For one thing, there are likely many unexploded Russian devices still in the city. Barbed wire, military vehicles, sandbags, and tanks remain. Vehicles are still stopped at roadblocks. Half of the original population of Kyiv has fled, and the mayor has warned them that it is still dangerous to return.
Dig Deeper Imagine that you are a student living in Kyiv. Based on what you read above and have heard in the news, write a journal entry describing day-to-day life in your city.
Toads on Roads
Now that warmer weather is here, depending on where you live, you might be hearing frogs and toads sing and peep as they begin their mating season. London, England, takes this process very seriously. In fact, authorities have closed off a 1,300-foot section of Church Road to allow frogs to cross safely on their way to breed in ponds on the other side of the road. The road has been closed for more than three weeks during the day. At night, it is watched by local "toad patrol" volunteers. Signs posted in the area read "Road Closed for Migrating Toads: Toad patrol volunteers on the road." The conservation initiative began in 2010, when residents approached the town council with their concerns that the animals were being squished as they migrated from their hibernation spots to nearby ponds to breed. Most locals are supportive of the effort: Church Road is quiet, with not many houses along it, so the closure doesn't cause too much inconvenience.
Toad Patrol volunteers are recruited through Froglife, a UK nonprofit organization devoted to conserving amphibians, reptiles, and their habitats. Their approach to their mission is threefold. They support on-the-ground conservation efforts (such as "toad patrol"), promote environmental education, and provide environmental advice and information. They call their annual road protection project "Toads on Roads." For more than twenty years, Froglife has been identifying roadways that amphibians cross on their way to their ancestral breeding ponds. The group then registers those roadways as "migratory crossings" and petitions local councils and governing bodies to put up signs and take other actions to protect the animals.
Dig Deeper According to Froglife, the time to keep an eye out for migrating amphibians is when temperatures at night start to reach around 40 degrees Fahrenheit and this temperature is paired with rainy conditions. Create a poster or pamphlet reminding people to keep a look out for toads and frogs this time of year. Include facts and statistics about declining amphibian populations, as well as images.
Students Join Ukrainian Relief Effort
Stories about the Russian invasion of Ukraine have dominated the news lately, and many of us want to find a way to help. Students at Harvard University sought to make a positive difference in the lives of Ukrainian refugees. One graduate student, Ukrainian American Anna Bisikalo, has started a collection of food, clothing, baby items, and other humanitarian supplies to send to Ukraine. She says she has received overwhelming support from the university and from other students for this project.
Meanwhile, two first-year students–Avi Schiffmann and Marco Burstein–have created a website called UkraineTakeShelter, which connects refugees with host families. Both students have a background in technology, and it took them just three days to complete the website. The concept is simple: refugees in need of shelter can visit the site to find a list of safe places to stay. This is much easier than going through the government or other nonprofits, which may be difficult to understand or have long waiting lists or other complicated red tape. As of March 19, the website had nearly 25,000 listings in several countries, and has been translated into more than a dozen languages for ease of access. Next, Schiffmann and Burstein want to create a resource page that has information about public transportation and where to find clothing, food, and other supplies. And eventually, they say that they would like to expand the project to assist refugees from other areas of the world, such as Syria and Afghanistan.
What Do You Think? Use internet resources to research ways that you and other students can help with the Ukrainian relief effort. Is there a collection drive happening in your area? A fundraising effort? A benefit concert or event? Write a paragraph to share what you discover.