Afghanistan Faces Humanitarian Crisis
In September 2021, President Joe Biden withdrew all American troops from Afghanistan. American soldiers had been stationed there for twenty years since the terrorist attacks of September 11, 2001. The United States goals during this time were to remove the Taliban from power and encourage the formation of a stable democracy in Afghanistan. The Taliban government was removed from power in December 2001, but some Taliban leaders evaded capture. The democratic government in Afghanistan struggled to solidify its authority and the military fought against resistance groups for many years. Almost immediately after the American withdrawal in 2021, the Taliban began gaining ground. Rural areas were the first to fall to the Taliban, and eventually the cities fell too Now, one year later, the Taliban controls much of the country. This situation leaves the Afghan people to face an a large-scale humanitarian crisis.
Right now, 43 percent of the Afghan population eats less than one meal per day. By the end of 2022, 97 percent of the population is expected to fall below the poverty line. Advances that the country has made in terms of democracy, women's rights, and civil liberties have been undone by the new Taliban leaders. For example, as of 2022, girls in the country are no longer allowed to receive a secondary education. Women must cover their faces in public and are not allowed to leave their homes unless they are with a male relative. Many women have also been forced to quit their jobs.
Share What You Know Use the statistics in the article above to create an infographic illustrating the current humanitarian crisis in Afghanistan.
New CDC Protocols for COVID-19
The Centers for Disease Control and Prevention (CDC) recently released a new and updated set of coronavirus guidelines. These guidelines are meant to help schools set expectations for the current school year. Here are some of the new guidelines:
If you live in a place with a high rate of COVID-19 infection, you should wear a mask in school and in other indoor public places. This information is updated weekly.
If you are exposed to the virus, you no longer need to quarantine. You should wear a mask for ten days and get tested. If you do test positive, you should quarantine at home for at least five days. During that quarantine time, do not return to school or other activities if you still have symptoms. And when you do return, continue wearing a mask for ten days, whether you have been vaccinated or not.
Schools are no longer required to test students, but the CDC recommends that they continue to do so in districts with high rates of infection. The CDC also recommends testing students who participate in high-contact activities, such as sports.
Schools should clean all surfaces once a day. Schools should reinforce the importance of hand washing and provide hand sanitizer.
Schools should also work to improve air flow and ventilation and work with local health care officials to develop prevention strategies.
According to the CDC, these guidelines prioritize safety without disrupting normal routines. About 95 percent of the U.S. population now has some degree of immunity to the disease, either because they've been vaccinated, they've been infected with COVID-19, or both.
Dig Deeper Do you live in an area that currently has a high rate of COVID-19 infection? Visit this CDC website and scroll down to "COVID-19 County Check." Enter your state and county to find out the infection level in your community, and to learn what precautions you should take.
NBA Reschedules Games to Encourage Voting
In 2020, more than 600 companies–including Coca-Cola, Visa, and Best Buy–gave their employees a paid day off on Election Day. The goal was to make it easier for them to go to the polls. The National Basketball Association (NBA) also took steps to increase voter turnout by temporarily converting 23 arenas into polling places. Individual NBA players acted as well. For example, LeBron James of the Los Angeles Lakers helped organize and promote voter registration drives.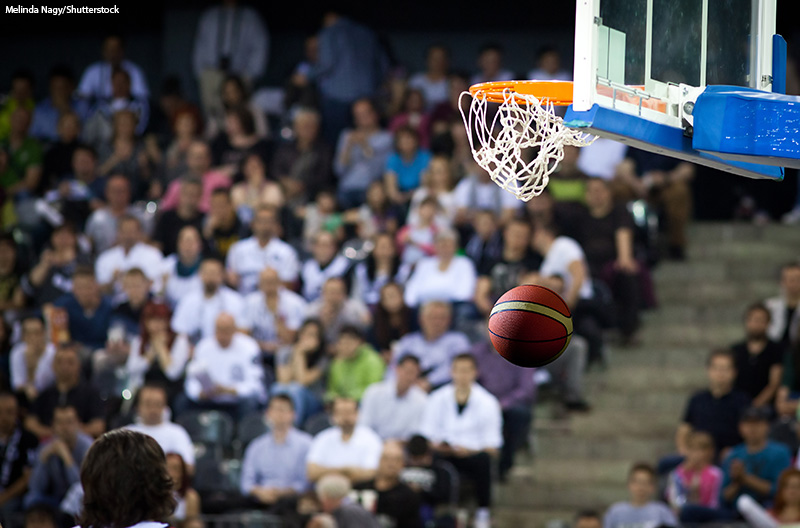 Fast forward to 2022. Election Day is on November 8th. In 2022, 435 U.S. House seats, over 30 U.S. Senate seats, more than half of all governor races, and many other state and local races are holding elections. The NBA has announced that it won't be holding any games this Election Day, in the hopes that this will encourage fans to make a plan to vote. Between now and then, the NBA will also put out information for its fans about voter registration and the voting process. Instead of playing games on November 8, all NBA teams will be playing in special games the day before, to encourage and remind fans to go vote. The NBA has also stated that it believes in promoting voting and civic engagement among all its fans and staff, regardless of political party.
What Do You Think? Do you believe that professional athletes and athletic organizations have a responsibility to encourage civic participation, such as voting? Why or why not? Do you think the NBA's strategy to increase voter turnout will be effective or not? Explain.