Hurricane Fiona Makes Landfall
Hurricane Fiona was the first official hurricane of the Atlantic hurricane season. In mid-September 2022, the storm moved toward Bermuda, Fiona was already responsible for the deaths of at least seven people in the Caribbean (one in Guadalupe, four in Puerto Rico, and two in the Dominican Republic). It made landfall in Puerto Rico on September 17, then left behind heavy rains, flooding, and an island-wide blackout. Nearly half a million people were without reliable access to clean water. In the Dominican Republic, more than 2,200 homes were destroyed. Over 700,000 people were without running water, and more than 200,000 were without electricity.
President Joe Biden approved a major disaster declaration, which made grants and low-interest loans available to people in Puerto Rico who need temporary housing or who need to make home repairs. Several U.S. governors have also sent aid, troops, and medical teams to the Caribbean.
Fiona then moved into the north Atlantic Ocean to Nova Scotia and Prince Edward Island in Canada. Most storms lose strength as they make landfall, but Fiona gained strength after leaving the Caribbean. The damage Hurricane Fiona caused made it the costliest storm Canada has ever seen. The dollar figure estimate is between $300 and $700 million. Over the weekend, the storm was recategorized as a Tropical Storm, but it still generated high waves, heavy rain, high winds, and significant damage. The storm caused power outages and building collapses along Canada's eastern coast.
Now people in the southern United States are feeling the effects of a new storm—Hurricane Ian that has been gaining strength in the Gulf of Mexico and is crossing Florida on September 28. Weather experts believe that Ian will then turn north and move along the eastern coast of the United States.
Dig Deeper When was the last time that the Atlantic coast of Canada experienced a major hurricane? Write a paragraph describing that event.
France's "Stonehenge"
You may have seen photos of Stonehenge, a prehistoric monument in England that consists of an arrangement of tall, heavy stones. Stonehenge is a UNESCO World Heritage Site. But have you ever heard of the Alignements de Carnac (Carnac Alignments)? This is another arrangement of massive stones that's located in France's Brittany region.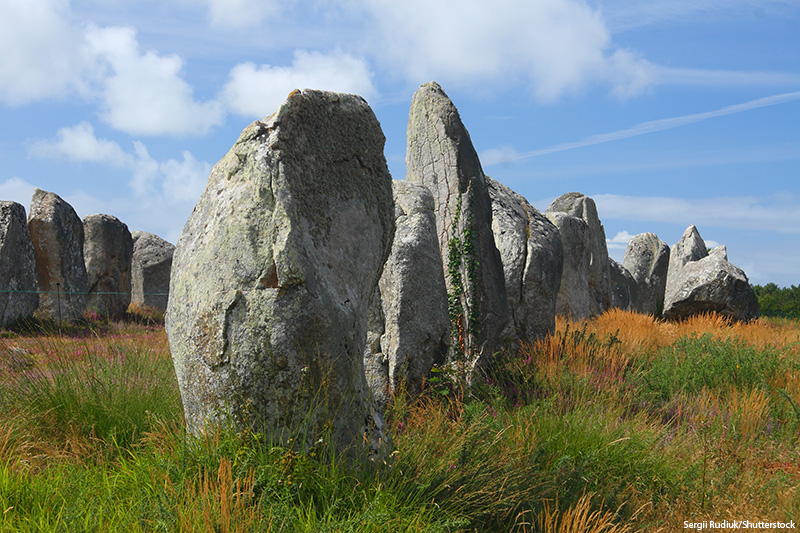 The Alignements de Carnac is made up of more than three thousand man-made stones. It is located on two and a half miles along the coast of Brittany, making it the largest group of man-made standing stones in the world. The stones are about six thousand years old (that's about a thousand years older than Stonehenge). Like Stonehenge, no one really knows how the stones got there or why. All historians can say for sure is that they were placed there by a Neolithic community, dug from the bedrock at the site, and arranged using pulleys and sheer muscle power. The stones range in size from just under two feet tall to almost twenty feet tall. They havean average weight of about five to ten tons (between 10,000 to 20,000 pounds). The stones aren't in a perfectly straight line, but they seem to be placed in a planned way along the coast. It's possible they once had ceremonial or religious significance. In addition to the carved stones, or menhirs, the site also has several stone burial chambers, called dolmen.
Over time, some of the stones have fallen over. To reduce wear and tear at the site, visitors are only allowed to visit for free in winter. Meanwhile, a local group called the Menhis Libres (Free Menhirs) has been advocating for better planning to reduce traffic and overcrowding at the site.
What Do You Think? In your opinion, should tourists be allowed to visit historical sites without restriction? Or do you think it's more important to limit visitors and preserve the site? Explain.
Major Earthquake Hits Taiwan
On September 18, 2022, a 6.9 magnitude earthquake hit the southeastern corner of Taiwan. The quake, which could be felt all over the country, caused buildings and a bridge to collapse in the country's rural Chishang township. According to Taiwan's fire department, one person was killed and 146 people were injured by the quake. More than 600 people were trapped in the mountain areas by blocked roads, though no one was injured. A train with 20 passengers on board derailed, but all of the passengers were evacuated safely.
Immediately following the quake, the U.S. Pacific Tsunami Warning Center issued a tsunami warning, but it was later lifted. Taiwan's President Tsai Ing-wen issued an emergency alert and called in more than 100 soldiers to help with the rescue and cleanup effort.
Taiwan is located near the intersection of three tectonic plates: the Philippine Sea, Sundra, and Eurasia plates. As a result, the country experiences a lot of earthquakes. In 1999, a 7.3-magnitude earthquake killed more than 2,000 people and caused an estimated $14 billion in damage. More recently, a 2016 quake killed more than 100 people. Over the weekend, there were more than 50 smaller earthquakes in Taiwan. In fact, a magnitude 6.5 quake was recorded in the same area just 17 hours before this most recent one. (No one was injured in the earlier quake.)
President Tsai has warned residents to prepare for more quakes and aftershocks to come.
Dig Deeper What five countries have the most earthquakes? Based on what you read above, what geological feature might these countries have in common?