First Asian American to Appear on U.S. Currency
The American Women Quarters program, which started in 2022, is a four-year program in which the U.S. Mint will issue quarters honoring important American women. Each year will feature five different women. The women are shown on the reverse ("tails") side of the quarter, while the obverse ("heads") side shows an image of George Washington created by female sculptor Laura Gardin Fraser. The program is committed to celebrating women of diverse races and ethnicities, geographical backgrounds, ages, time periods, and fields. The newest quarter released this week is the first instance of an Asian American on U.S. currency. It recognizes movie star Anna May Wong. 
Anna May Wong became a Hollywood star a century ago, during the silent film era. At the time, she was the movie industry's first Chinese American star. During her career, Wong faced racial discrimination. Wong was born in Los Angeles, California, in 1905 and began acting at the age of fourteen. She moved to Europe in the 1920s and made several films there. In the 1930s, Anna May Wong made films both in Europe and in the United States. She became famous for her roles in such well-known films as Shanghai Express (1932). She received a star on the Hollywood Walk of Fame in 1960 and died in 1961 at the age of 56. During her career, she consistently fought against racism in the film industry and advocated for better representation of Asian American actors.
Dig Deeper Besides Anna May Wong, what other women have been featured on 2022 quarters? List these women, with a sentence or two describing their contributions. 
Girl Scouts Receives Huge Donation
Girl Scouts is the largest leadership organization for girls in the world. It was started by Juliette Gordon Low in 1912. It has served millions of girls. This includes politicians such as Hillary Clinton and Elizabeth Dole athletes including Serena and Venus Williams, and musicians Queen Latifah and Taylor Swift. More than fifty million American women alive today participated in Girl Scouts when they were young. But recently, the organization has suffered. First, in 2019, Boy Scouts began accepting female members. Then the COVID-19 pandemic prevented troops from meeting in person. As a result, membership in Girl Scouts USA dropped dramatically. Membership dropped from about 1.4 million girls in 2019 to about one million in 2022. Many Girl Scout councils had to sell camp properties, decrease programming, reduce staff, and more to make up for the loss.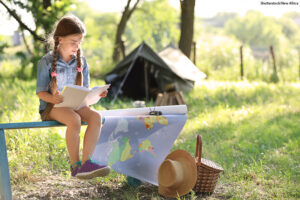 But on October 18, 2022, Girl Scouts received the largest donation in its history. MacKenzie Scott donated $84.5 million to the organization. Scott is the former wife of Amazon founder Jeff Bezos and has given millions to charitable organizations and social causes. The money is largely unrestricted, meaning that Girl Scouts is allowed to distribute and use it however they would like. The organization says it plans to use the gift to
support volunteers and staff,
update camp properties,
improve programming in science and technology, and
expand diversity and inclusion programs.
MacKenzie Scott is a member of The Giving Pledge, a group that asks extremely wealthy people to give away more than half of their wealth to charitable causes during their lifetimes. Currently, more than 230 billionaires have signed the pledge.
What Do You Think? To what organizations, groups, or programs should members of The Giving Pledge donate their money? Why?
BTS Takes a Break to Join the Military
Are you a fan of BTS? The seven South Korean members of the world-famous K-pop group are about to take a break from recording and performing music. During this time, they will serve in the South Korean military. South Korea requires all able-bodied male citizens to serve in the military by the time they turn 28. The length of service must be at least eighteen to twenty-one months
The first BTS member to enlist will be Jin (Kim Seok-jin), who is 29 years old and the oldest member of the group. He will enter the military in December 2022, soon after he turns 30. Jin was the first K-pop star allowed to delay his enlistment. The South Korean government offered him a two-year delay so that he could continue his musical career and continue enhancing the country's image internationally. Jin is not the first person to receive a delay or exemption of military service. The government sometimes excuses medal-winning athletes and other performers from fulfilling the enrollment requirement. Whether or not the members of BTS should be exempted from service was debated by members of the South Korean government. Some members of the government were concerned that exempting the BTS members would show favoritism over other men who have to serve.
The group plans to reunite around 2025, once all members have completed their service.
What Do You Think? Use Internet resources to learn more about Steve Yoo and the controversy surrounding his decision not to serve in the South Korean military. Do you agree with Yoo's decision? Why or why not?