Do you like to draw? Do you like science? Can you imagine using your drawing skills to re-create ancient worlds and long-extinct ecosystems? Would you like to help the world visualize history and make science come to life? If so, then the career of scientific illustrator might be for you. A fascinating combination of art and science, scientific illustrators can communicate new scientific discoveries and complex scientific concepts in ways that people can easily understand.
What is a Scientific Illustrator?
Book illustrators illustrate stories; scientific illustrators illustrate science. They create drawings or other models of scientific subjects to help people visualize them and to communicate them to a wider audience. For example, many scientific illustrators create drawings of extinct plants and animals.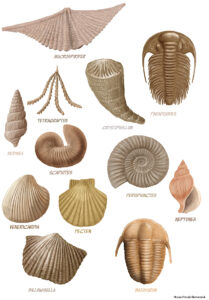 Scientific illustrators begin by gathering all the information they can about their subjects. Often, this involves a lot of reading. They use what information they can from fossils, bones, and other artifacts. They combine this with their knowledge of what the environment was like at a particular time, and then draw conclusions about what animals and plants must have looked like in that environment.
But not all scientific illustrators focus on the past. The field of scientific illustration includes a wide range of other specializations as well, such as medical illustration. This role involves creating artwork and illustrations that show surgical procedures, anatomy, and biological processes for educational purposes. Scientific illustrators can also work on constructing museum exhibits, and creating infographics, animations, and videos.
Education/Experience
To be a scientific illustrator, you will need at least a bachelor's degree. Most people interested in this field major in fine arts, graphic design, biology, or ecology. Many also have advanced degrees in life or earth sciences. These artists may also be formally trained in artistic techniques such as watercolor or acrylics. Medical illustrators require further training in anatomy and life sciences.
Apart from formal education, required skills include the ability to use digital design software. Most scientific illustrators either start their own businesses or work as freelancers, and so business skills and customer service skills are helpful as well. Regardless of your level of training, it is important to have a good collection of work that showcases your artistic skills.
Job Outlook
Scientific illustrators make an average of $34.75 an hour, or $72,277 per year. However, growth in this area is slow: from 2018 to 2028, the career is expected to grow only one percent and produce just five hundred new jobs across the United States. Scientific illustrators are most in demand in California, Massachusetts, and New York.
Medical illustrators make an average of $65,800 per year. The employment outlook in this field is excellent because interactive e-learning programs are becoming more important in the medical field. Formal artistic training is a critical first step to getting a job in this field.
The Guild of Natural Science Illustrators (GNSI) and the Association of Medical Illustrators (AMI) are organizations that provide support for people in these fields through information, resources, professional networking, and yearly conferences.
Other Things to Consider
You might think that a career as a scientific illustrator means you will get to spend all day drawing. Scientific illustrators must also spend time on research to ensure the accuracy of their illustrations. If they are self-employed they need to also consider marketing, tracking their finances, and managing client requests. There can also be other expenses associated with the job, such as purchasing a good computer with a lot of memory and a fast processor. Most scientific illustration work is done remotely, which can be difficult for people who do not enjoy working from home.
On the other hand, a career in scientific illustration is a good fit for people who prefer to work independently. This kind of work can also offer variety: you could be working on a textbook one week and creating a backdrop for a museum exhibit the next. You also get to choose projects and areas of specialization.
Dig Deeper Find an example of a scientific illustration in one of your textbooks or online. Does this illustration give you a better understanding of the material it describes? Explain.