Founded by the U.S. Congress in 1962, the Smithsonian's National Portrait Gallery collects and displays portraits of individuals who have made significant contributions to the United States. Beginning on February 10 and running through September 10, 2023, the Gallery will feature the second installment of the two-part series I Dream a World: Selections from Brian Lanker's Portraits of Remarkable Black Women. The portraits come from a 1989 book by Brian Lanker called I Dream a World: Portraits of Black Women Who Changed America. Lanker, a Pulitzer Prize-winning photographer, captured images of (and interviews with) seventy-five African American women. These women made significant contributions to the arts, entertainment, activism, politics, sports, and other areas–and overcame significant obstacles to do so. The first installment was exhibited from July 8, 2022, through January 29, 2023. That first half included portraits of poet Maya Angelou, congresswoman Shirley Chisholm, activist Rosa Parks, singer Lena Horne, and more. Here, btw takes a closer look at a few of the women featured in the second installment.
Althea Gibson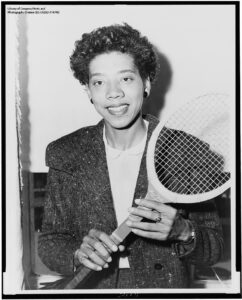 Althea Gibson was the first great female African American tennis player. In the 1950s, at a time when the country (and the game of tennis) was actively segregated and male-dominated, Gibson was a true trailblazer. She was:
the first African American ever to play at England's Wimbledon championship;
the first African American to win the Wimbledon, the French Open, and U.S. Open titles; and
the first African American on the women's pro golf tour.
Gibson was inducted into the International Tennis Hall of Fame in 1971. The legendary Gibson passed away in 2003.
Odetta Holmes
Singer Odetta Holmes was often referred to as "The Voice of the Civil Rights Movement." Dr. Martin Luther King, Jr., also called her the "queen of American folk music." Holmes was born in 1930 in Birmingham, Alabama, and grew up in California where she received opera training starting at a young age. In the 1950s, she moved to New York to pursue her career in folk music. Her style is described as a mix of traditional African spirituals, folk, and blues, and she was an influence for many later musical artists such as Bob Dylan and Janis Joplin. Holmes was the recipient of several important awards, including the National Medal of the Arts and the Library of Congress's Living Legend Award. She passed away in 2008.
Cicely Tyson
Actress Cicely Tyson was born in 1924 in East Harlem, New York. Her parents had emigrated from the Caribbean islands. As a young woman, she defied her mother's wishes and began to pursue modeling while also taking acting classes. Eventually, in the 1960s, she landed a television role as a secretary on the CBS series East Side/West Side. She was the first African American actress with a continuing role in a dramatic series. In 1972, she was nominated for an Academy Award for her role in Sounder. She also earned an Emmy in 1977 for her role in the television series Roots. Tyson refused to play the demeaning or degrading roles often assigned to African American women in Hollywood. She was a trailblazer for future African American actors because of her strong and empowering character portrayals. For this reason, she received the Presidential Medal of Freedom from President Barack Obama in 2014. Tyson passed away in 2021.
Oprah Winfrey
Oprah Winfrey grew up on her grandmother's farm in rural Mississippi, though at age six she moved to Milwaukee, Wisconsin, to live with her mother, a housemaid. After a very difficult childhood, she moved to Nashville, Tennessee, to live with her father. Her life improved, and she began to study broadcasting. Her career breakthrough came in 1985, when she was cast by Quincy Jones in the award-winning film The Color Purple. A year later, she launched The Oprah Winfrey Show. It ran for twenty-five seasons and remains the highest-rated talk show in American television history. At the same time, she continued to act; authored several books; started her own production company; published two magazines; and started "Oprah's Book Club." In 2003, she became the first African American female billionaire. Winfrey has found countless ways to give back, including donating many millions of dollars to charitable causes. She was awarded a Presidential Medal of Freedom from President Barack Obama in 2013.
What Do You Think? Imagine that you are in charge of creating a third installment of the "I Dream a World" portrait exhibit. Name three women whose portraits you would include and explain why.