President Abraham Lincoln declared an end to slavery in the United States with the Emancipation Proclamation in September 1862. Following the Union army's success at the Battle of Antietam, Lincoln proclaimed "That on the 1st day of January . . . 1863, all persons held as slaves within any state or designated part of a state . . . in rebellion against the United States, shall be then, thenceforward, and forever free. . . ."
While this was an important moment, declaring an end to slavery was only an idea until Union forces won the Civil War and took control of the Southern states. Only then could Emancipation become reality. The Civil War ended on April 9, 1865, when General Robert E. Lee surrendered to General Ulysses S. Grant at Appomattox Court House, Virginia. Word of the war's end, however, spread slowly across the war-torn nation. News of the war's end was not heard in Texas, the westernmost state of the country, for another month.
Spreading the News
On June 19, 1865, Major General Gordon Granger and troops of the Union Army arrived in Galveston, Texas, and announced that the Civil War had ended and all enslaved persons were free. The proclamation stated:
"The people of Texas are informed that, in accordance with a Proclamation from the Executive of the United States, all slaves are free. This involves an absolute equality of rights and rights of property between former masters and slaves, and the connection heretofore existing between them becomes that between employer and free laborer. . . ."

General Gordon Granger, General Orders, Number 3
African Americans in Galveston, Texas, celebrated their freedom that night with dancing, singing, and feasting. One observer described the celebrating crowd: "[T]housands flooded the streets of Galveston, rejoicing in their newly-announced freedom. The sweet smell of barbecue smoke filled the air. Dancing feet pounded the dirt roads and harmonic voices sang spirituals."
Beyond Galveston
To commemorate that historic moment in Galveston, other Southern cities began their own yearly remembrance of freedom. This celebration is known as Juneteenth.
In 1867, Austin, Texas' Juneteenth celebration was sponsored by the Freedman's Bureau—a government organization created during the postwar Reconstruction era to aid the transition of freed African Americans into a new way of life.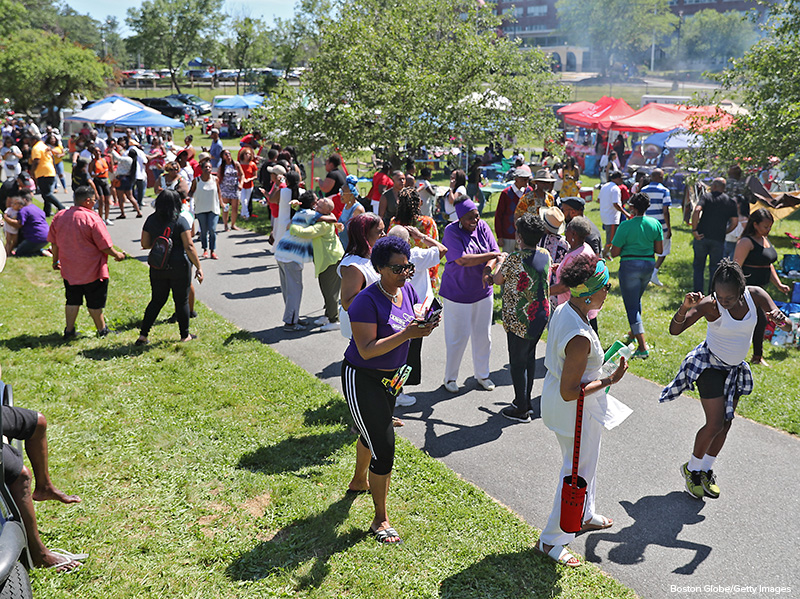 Juneteenth Today
Juneteenth did not become an official Texas holiday until 1980. Today, it is celebrated by almost every state in the United States. Typical Juneteenth activities include picnics, parades, barbecues, and family reunions. Juneteenth celebrations may also feature informative lectures on historical topics, prayer services, as well as music and food in a festival atmosphere.
In June 2021, Congress passed a resolution to make Juneteenth a federal holiday. The legislation received unanimous support in the Senate, and only 14 "no" votes in the House of Representatives. It was signed by President Biden on June 17, 2021 and is now officially a federal holiday, to be observed on June 19 each year.
Learn More—Use this link to read more about Juneteenth's history from the Smithsonian Institution's National Museum of African American History and Culture.
Share What You Know Find out if Juneteenth is celebrated in your area and learn more about the history of the holiday in your state. Consider organizing a Juneteenth celebration for next year. Click on the How to Celebrate link on this Juneteenth Web site to get instructions on how you and your friends and family can start your own celebration.