Cuba Approves Women's Boxing
On December 5, 2022, Cuban officials announced that women will be able to compete in boxing in Cuba for the first time in history. Cuban women have competed in other contact sports, such as taekwondo, judo, karate, weightlifting, and wrestling. But they were not allowed to box. . Now, however, Cuba's National Institute for Sprots (INDER) has announced that they will hold a competition of forty-two female boxers in mid-December. From that group, twelve boxers will be chosen to form an all-female team. That team will go on to compete in El Salvador at the Central American and Caribbean Games. Ultimately, their goal is to compete at the 2024 Olympic Games in Paris. Beginning in January 2023, female boxers will also be able to train in state sports centers. The change came about largely as a result of the country's recently approved "family code." This is a set of regulations aimed at ending discrimination against women and the LGBTQ+ community in Cuba.
Boxing is an important sport in Cuba. The country has produced many male boxing legends and has received forty-one Olympic medals in boxing since 1972. This announcement means that female boxers will no longer have to immigrate to other countries in order to compete. However, female boxers in Cuba will still be required to wear extra padding for additional protection.
Dig Deeper What year was women's boxing added to the Olympic Games?
White House Extends Protections to Haitian Migrants
In July 2021, President Jovenel Moise of Haiti was assassinated. Since then, the country has been plagued by political instability, including frequent gang violence. Haiti also faces economic instability, a rising crime rate, and dangerous earthquakes. Also, since early October, a devastating cholera outbreak has claimed the lives of hundreds of Haitian children. More than five million Haitians are currently in need of humanitarian assistance.
As a result of this dangerous upheaval, the Biden administration has granted extended Temporary Protected Status (TPS) to Haitians already living in the United States. TPS allows migrants from certain countries to continue living and working in the U.S. as long as they meet the specified criteria. Any Haitians who entered the U.S. by November 6, 2022, are eligible to apply for Temporary Protected Status. Those who received TPS last year can extend it for another eighteen months, until August 3, 2023. (It was originally set to expire in February.) Senate Majority Leader Chuck Schumer estimates that more than 100,000 Haitians will receive TPS. According to the Department of Homeland Security, Haitians who entered the country after November 6, 2022, are not eligible for protected status, and are subject to deportation.
TPS is usually offered to migrants from countries that have faced serious natural disasters or political unrest. Since 2020, the Biden administration has already introduced or extended TPS for migrants from Afghanistan, Ukraine, Myanmar, Cameroon, and Venezuela.
Dig Deeper Why do you think the Biden administration has introduced or extended Temporary Protected Status to the other five nations listed above? If you don't know, use Internet resources to find out.
Santas Just Like You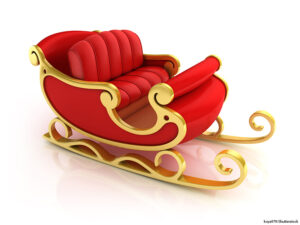 A decade ago, a North Carolina man named Stafford Braxton was working as a Santa photographer at his local mall. He met many African American families who suggested that it would be nice if Santa looked more like them. So, in 2013, Braxton started a business called Santas Just Like Me. The company's mission is to provide Santas of color and representation for Christmas celebrations. In the past nine years, Braxton's company has participated in tree lighting events, parades, church celebrations, day care holiday parties, and even commercials. Families can also book a virtual visit or a personal "buddy visit" with one of the six Santas on Braxton's staff.
The goal is representation and inclusivity. Braxton believes that no child should feel left out of Christmas. And so his company also provides Santas for children who might have special needs, such as autism, which might otherwise prevent them from being able to engage with a more traditional Santa.
Braxton notes that he doesn't just look for skin color when hiring potential Santas for his business. He says the most important thing is a warm personality with a loving heart. He adds that a good natural beard doesn't hurt, either.
Share What You Know Discuss with your classmates your favorite holiday traditions. Are there activities that you look forward to each year? Is there a favorite food that you only eat during the holiday season?