The Academy Awards, or Oscars, are yearly awards for artistic and technical merit in the film industry. This year, the movie Everything Everywhere All at Once had a historic night at the 2023 Oscars. The film is about a middle-aged Chinese American woman and her family travelling the multiverse—a series of different fictional universes where their characters live a variety of different lives. The picture won seven awards: Best Picture, Best Director, Best Actress, Best Supporting Actor, Best Supporting Actress, Best Original Screenplay, and Best Film Editing. It became one of the most awarded films of all time.
A Historic Night
The wins for Everything Everywhere All at Once are a significant moment of recognition and celebration for many. The cast was almost entirely made up of Asian or Asian American actors. All three acting winners–Michelle Yeoh, Jamie Lee Curtis, and Ke Huy Quan–earned their first-ever Oscars for the film. The many notable wins highlight the film industry's difficult history for non-white and other minority talent-. Specifically, the recognition this film has received was a long time coming for Asian Americans. Many Asian actors and actresses have broken barriers in the industry in recent years, but few have received coveted awards.
A Closer Look at Some of the Winners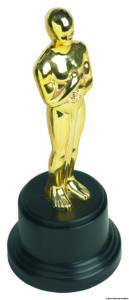 Michelle Yeoh plays an Asian immigrant mother. She is a failing laundromat owner who turns into a superhero. Yeoh is the first woman of Asian descent to win an Academy Award for Best Actress. The award was presented to her by actress Halle Berry. Berry was the first African American woman to win the same trophy—in 2002. A Hollywood veteran, Yeoh has been in many successful films. These include the 1997 James Bond film Tomorrow Never Dies and 2018 hit film Crazy Rich Asians. But Everything Everywhere All at Once was Yeoh's first lead role. Throughout her career, Yeoh has often felt boxed into certain types of roles, such as an extra or a sidekick character. This lead-hero role was finally different for her. She is also celebrating getting to act in a lead role as a middle-aged woman. This is because in Hollywood women tend to get fewer star roles written for or offered to them as they age. The film's writers, Daniel Kwan and Daniel Scheinert, specifically wrote the lead role for Yeoh to give her the chance to show her full capabilities as an actress. Because of this, Yeoh's role and her win was a history-making milestone for her and the communities she represents.
Jamie Lee Curtis won the award for Best Supporting Actress. She also represents progress for women in Hollywood. In Everything Everywhere All at Once she played a tax inspector. As an actress for over four decades, Curtis was thrilled to receive her first Oscar, especially at an older age. Curtis came on the scene in 1978 when she played the iconic role of Laurie Strode in Halloween (1978). She also gained a name for herself in comedies, such as Trading Places (1983) and Freaky Friday (2003). Her win at 64 years of age proves that years of hard work can pay off.
Ke Huy Quan, who won Best Supporting Actor, echoed Yeoh's feelings of representation in his acceptance speech. Quan played Yeoh's husband. As an immigrant, Quan felt this Academy Award meant he had achieved the American dream. Originally from Vietnam, Quan was a refugee who fled the Vietnam War. He immigrated to Los Angeles in 1979. He found initial success as a child actor in Indiana Jones and the Temple of Doom (1984) and The Goonies (1985). However, as he grew up, he found that roles for Asian actors were limited. Because of this he left the film industry. Recently inspired by seeing Asian actors succeed in Crazy Rich Asians, he came back to Hollywood. His work in Everything Everywhere All at Once came almost 20 years after his last film role. Quan was thrilled to represent a comeback story. In his acceptance speech he urged others to keep their dreams alive.
What Do You Think? Seeing yourself in your heroes, whether in Hollywood, history class or elsewhere, can inspire dreams or interests that you might not have previously thought possible. Can you think of a time when you were inspired by a real-life figure achieving something? Write a reflection about this person and why their achievement was meaningful to you.