Saturday, April 22, 2023, is Earth Day—a day to focus on the ongoing worldwide environmental movement. Earth Day began in 1970, when thousands of colleges and communities across the United States came together to protest industrial practices that created pollution and threatened the health and safety of people and the environment. Fifty-three years later, more than one billion people in nearly two hundred countries will participate in Earth Day activities and celebrations. Here, btw takes a closer look at this year's theme, and at ways to get involved.
Investing in a Green Economy
This year's theme— "Invest in Our Planet"—emphasizes the importance of governments, businesses, and citizens acting together against climate change to build a sustainable future. It encourages governments to create policies that encourage sustainable energy development. The theme also encourages businesses to take responsibility for changes that help improve the environment's future. Private citizens are also encouraged to speak up to secure a sustainable future. The work of all three groups is important to reverse the current climate crisis.
A Worldwide Event
Communities around the world are celebrating Earth Day with rallies, teach-ins, and more. In Cape Coral, Florida, more than 5,000 volunteers are expected to help clean up trash and debris left behind by Hurricane Ian. Santa Monica, California, is hosting an Earth Day Jubilee at Heal the Bay Aquarium. The event will offer craft stations, short films, and even mini dance parties. In Rome, Italy, a five-day celebration called the Village for the Earth includes a full schedule of activities, speakers, shows, and educational workshops. And London, England, will host what is expected to be the largest environmental protest of 2023, called "The Big One."
What Can I Do?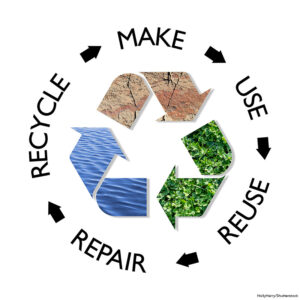 There are plenty of actions you can take on your own to participate in Earth Day observances. Simple, everyday actions that can become easy habits include picking up trash when you're out for a walk or a jog; turning off the lights when you leave a room; using reusable bags when you shop; buying locally sourced food when you can; and drinking from a reusable water bottle.
Some other examples of targeted choices that help the environment include reducing the use of single-use plastics, such as coffee stirring sticks, plastic utensils, and some takeout containers. Many communities are implementing compost programs that collect food waste for repurposing into garden soil. There is also a growing effort to offer more plant-based food alternatives to meat-centered meals. Each of these examples show how some changes in everyday life events can result in a sustainable future.
Dig Deeper Your "foodprint" is the impact that you have on the environment with the food that you eat. Find out yours by taking the three-minute quiz at https://foodprint.org/quiz/. Then take a look at your detailed results. What's one thing you're doing well to limit your "foodprint"? What's one thing you could do better?