An inspiring story about a Hispanic American who was once a migrant worker and became an astronaut is now streaming online. The movie, "A Million Miles Away," describes how José Hernández became one of the first Hispanic Americans to fly into space as a U.S. astronaut.
Beginnings
José Hernández was born on August 7, 1962, in French Camp, California. His parents were from Mexico. Hernández, his three other siblings, and his parents were migrant farm workers. Each year, beginning in March, the family traveled from Mexico north to Stockton, California. They were hired to pick strawberries and cucumbers at farms along the route. In December, they would return to Mexico, until they began the cycle again in the spring.
Hernández did not attend school regularly because his family was always traveling to the next farm for work. He spoke only Spanish until he was 12 years old. As depicted in the movie, Hernández's second grade teacher visited his home and talked with his parents. She encouraged the parents to settle in one place so that their children could attend school regularly. Hoping to give their children a better life, the parents decided to remain in Stockton, California.
Life-Changing Advice
Hernández's father Salvador encouraged his son to do his best in school. Hernández shared the following advice with José:
Find your goal.
Know how far you are.
Draw a roadmap.
If you don't know how, learn.
When you think you've made it, you probably have to work harder.
José liked math because its concepts and principles were the same for every person who studied it, no matter where one came from or what language they spoke. José Hernández finished high school and attended the University of the Pacific. In 1984, he earned his bachelor's degree in electrical engineering. Two years later, he received his master's degree in electrical and computer engineering from the University of California–Santa Barbara. José began working at Lawrence Livermore National Laboratory in northern California, where he and another colleague developed the first full digital mammography imaging system. This technology is used today to detect early stages of breast cancer.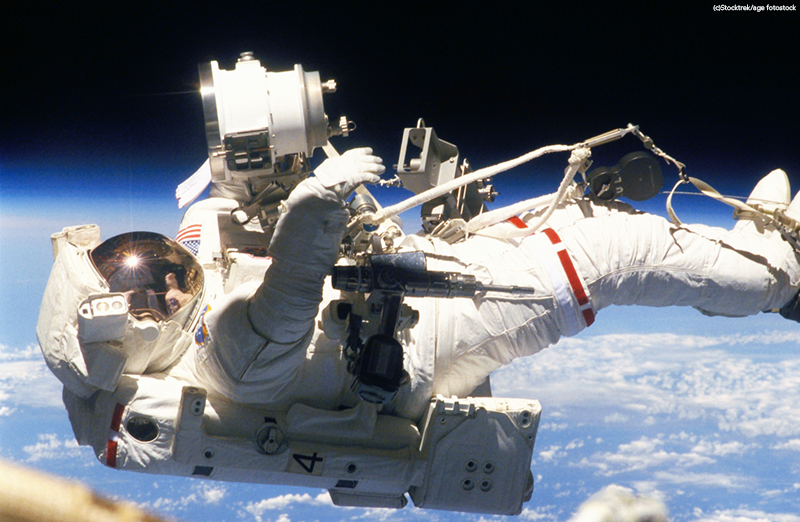 Dreams of Space
Although he had a successful career, José Hernández dreamed of being an astronaut for the National Aeronautics and Space Administration (NASA). When he was young, José was inspired by astronaut Franklin Chang-Díaz, who was the first Hispanic American astronaut. José was persistent. He applied 11 times for NASA's astronaut program but was rejected. In 2004, on his 12th attempt, he was accepted into the program, becoming NASA's tenth Hispanic astronaut. He completed astronaut training, and in 2009, served as a mission specialist on the Space Shuttle, Discovery. Discovery transported 18,000 pounds (about 8164.66 kg) of supplies and equipment to the International Space Station. In addition, Hernández and his fellow shuttle astronauts conducted experiments and performed three space walks during their two-week mission.
Life After Space
When José Hernández returned from space, he worked at NASA in Washington, D.C. He collaborated with members of Congress to create budgets and develop policies for space exploration. He also started the Reaching for the Stars Foundation. This foundation provides students with new educational opportunities in the science, technology, engineering, and math fields. Hernández hopes that that the film, "A Million Miles Away" will inspire other young people, no matter what their circumstances, to achieve their dreams.
What Do You Think? How do you think José Hernández applied his father's advice to his efforts to become an astronaut?