Elephant Express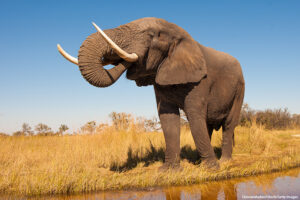 African elephants are an endangered species, but in one part of the world, they are as plentiful as people. In the Okavango Delta region of eastern Botswana, there are about 15,000 elephants and roughly an equal number of humans. This often leads to problems. Between 2009 and 2019, 67 people in this region were killed by elephants. Another 26 were injured. Human-elephant conflicts also killed an estimated 25 elephants per year during this same time period.
In eastern Botswana, public transportation is rare. People often have to walk long distances to school, markets, and health clinics. This is also a high-traffic area for elephants, who are moving between their grazing land and the Okavango River, their water source. To address this problem, in 2020, a conservationist group called Ecoexist came up with an idea. It decided to use minibuses to transport children safely to school and health care workers safely to clinics.  
Ecoexist researched elephant migration routes to identify where their paths crossed a road that links thirteen villages along the Okavango River. This information was used to set up the bus routes. Today, two minibuses transport around 170 schoolchildren and 40 university students, as well as healthcare workers. And it seems to be working. Only one person has been trampled to death by an elephant in this area since the "Elephant Express" started in 2020. School attendance rates have also gone up, now that parents are less afraid to send their children. The biggest challenge the Elephant Express faces? Getting enough funding to pay for the minibuses and enough drivers to run them.
Dig Deeper African elephants are number eight on the World Wide Fund for Nature's list of the ten most endangered species. What are the biggest threats to their survival?
President Biden's "Cancer Moonshot"
On September 12, 1962, President John F. Kennedy gave a speech at Rice University in Houston, Texas. In his address, he committed to putting an astronaut on the Moon by the end of the 1960s. This famous speech became known as Kennedy's "Moonshot Speech." On September 12, 2022, President Joe Biden gave a speech at the JFK library to honor the 60th anniversary of Kennedy's remarkable speech, and to make a commitment of his own. Biden wants to cut the number of Americans dying of cancer in half in the next twenty-five years.  
This initiative–called "Cancer Moonshot," in honor of Kennedy–will fund better screening, detection, and prevention methods for cancer diseases. Importance will also be placed on improving the experiences of survivors, including researching and preventing other diseases that survivors may experience as a result of their cancer treatment. During his speech, Biden also named Renee Wegrzyn as the director of the newly-created Advanced Research Projects Agency for Health (ARPA-H). This organization focuses on advanced health and biomedical research. Fighting cancer is of special importance for President Biden. His son Beau Biden died of brain cancer in 2015. 
So where will the money to fund "Cancer Moonshot" come from? That hasn't been decided yet, although President Biden stated that he hopes Congress will recognize this as an important bipartisan (two-party) issue and will come together to fund the project.
Dig Deeper Use Internet resources to find out more on the new trends in cancer research. What scientific techniques are being used today?
Artemis I Delayed
On September 3, 2022, NASA attempted to launch the space vehicle Artemis I. But the launch encountered a problem. The rocket is fueled by liquid hydrogen. It was discovered that the fuel was escaping from an eight-inch leak in the rocket. The rocket can't launch until the leak is fixed, but several attempts to fix it on the launch pad have already failed. If it can't be fixed there, then NASA will have to move the rocket back to the Vehicle Assembly Building for repairs. There won't be another opportunity to launch Artemis I until early October. Also, every time the 322-foot-long rocket is moved, it increases the chances that it could be damaged.
This was the second time in a week that the launch countdown was stopped. The first time was also because of leaks and because one of the rocket cooling systems wasn't functioning properly. NASA decided that it is better to delay the launch than to have something fail after liftoff.
The next launch attempt is scheduled for September 23, 2022. If the fuel leak isn't fixed by then, the next possible date is September 27th. The next chance following that date won't be until mid- to late-October. Once Artemis I successfully launches, it will travel 1.3 million miles to the moon and back. The mission will take 37 days.
Dig Deeper Why does NASA only launch on certain days? If you don't know, use Internet resources to find out.