Have you ever heard of Robert Smalls? The U.S. Navy just renamed a ship, the USS Robert Smalls, in his honor. Robert Smalls was an African American man who captured a Confederate steamer loaded with guns during the Civil War. Smalls surrendered the vessel to the Union Navy. By reaching Union lines, this act also freed Smalls and sixteen other enslaved people onboard. The renaming of the modern Navy vessel is fitting because the story of Robert Smalls aligns well with the Navy's values of honor, courage, and commitment.
Renaming the USS Robert Smalls
From 1989 until recently, the USS Robert Smalls was called the USS Chancellorsville. This original name honored Confederate generals Robert E. Lee and Stonewall Jackson. Lee and Jackson won a victory against the U.S. military at Chancellorsville, Virginia, in 1863. The renaming of this vessel is part of a larger program to rename U.S. military assets that currently honor Confederate history. In 2020 Congress created a Naming Commission committee with the intention to examine and suggest important buildings, memorials, ships, and other similar symbols for renaming.
In September 2022, the Naming Commission committee produced a report with recommendations to rename 1,111 assets across the country. The report listed four Naval assets–two buildings and two ships. The Navy decided to honor people who have been historically overlooked and had a significant impact on the Navy, and more broadly, the nation. These criteria meant that Robert Smalls was an ideal namesake.
The Life and Legacy of Robert Smalls
Robert Smalls was born in 1839 to an enslaved woman, Lydia Polite. He lived on a plantation in Beaufort, South Carolina, and was part of the Gullah community. The Gullah community is made up of people descended from West African enslaved people. Smalls grew up on the water and learned to fish and sail as a young boy.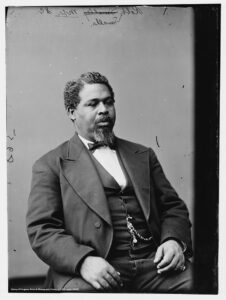 When the Civil War began in 1861, Smalls was working as an enslaved crewmember of a steamer ship called the Planter. The Confederate Army hired the vessel and began using it to carry munitions. While there were white officers on the ship, they left the ship to go home to their families at night. Smalls and the other enslaved crewmembers were often left alone. In May of 1862, Smalls knew that there was a Union Navy blockade just outside the mouth of the Charleston River.
On May 12 he decided to make a daring escape. After recruiting the rest of the enslaved crew to join his mission, they took the Planter in the middle of the night. They sailed to collect their families waiting at a wharf. To avoid suspicion, Smalls pretended to be captain by wearing a straw hat and a Confederate topcoat. He signaled various passcodes that allowed him to sail through the heavily fortified Charleston Harbor. Smalls, his crew, and their families sailed through Confederate waters to freedom without detection or incident. Once in Union territory they flew a white flag, made of bed linens quickly sewn together by Smalls' wife, Hannah Jones. This flag told Union sailors they were not the enemy. Smalls then surrendered the Planter, loaded with Confederate guns, to the Union.
Smalls' bravery did not end there. After receiving a reward for his daring action, Smalls returned to war. As a member of the Union Navy, he piloted different ships and became the first African American to command a U.S. Navy vessel. He also personally asked Secretary of War Edwin Stanton to begin enlisting African American soldiers.
When the war ended, Smalls decided to further dedicate his life to public service. He was elected to the South Carolina legislature. He also served on the U.S. House of Representatives. He focused most of his attention on advancing equality and bettering public education, especially for African American children. Smalls had many other notable accomplishments. He began a boycott that led to the desegregation of streetcars in Philadelphia in 1867. He also served as brigadier general in the South Carolina militia. A brigadier general is a one-star general officer just above a colonel. Smalls also started a school, published a newspaper, and founded a railroad.
Dig Deeper Use the Internet to research another U.S. military asset that has been renamed because of the Naming Commission report. What has been renamed? Who does it honor now? What did this person achieve? Write a paragraph about what you find.