May is Asian American and Pacific Islander (AAPI) Heritage Month: a time to recognize and honor the many cultures, histories, and contributions of the AAPI community. This week btw examines the history of Asian American settlement and community growth in central and southern California.
A Short History of AAPI Immigration
California has long been a destination for AAPI immigrants. The United States gold rush of the mid-1800s attracted many immigrants from China to move to the American west. Some hoped to find gold and strike it rich. Many others worked as laborers building the Transcontinental Railroad. But in 1882, the federal government passed the Chinese Exclusion Act, which prohibited additional Chinese immigration. After that, Japanese immigrants began to arrive in larger numbers. Many of these new immigrants worked as laborers in southern California, while others operated businesses selling fruits and vegetables. Many other Japanese immigrants worked as fishermen. In 1942, during World War II, President Roosevelt signed Executive Order 9066 that forcibly removed Japanese American families living on the West Coast into internment camps. After the war ended, Japanese Americans were no longer incarcerated in the camps and restored their communities in California. In the last decades of the twentieth century, more immigrants from Southeast Asia settled in California as well.
Settlement Patterns, Then and Now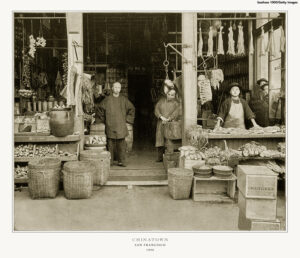 History, community, and opportunity have helped shape the settlement patterns of AAPI immigrants. Both San Francisco and Los Angeles have Asian American neighborhoods known as Chinatown. Both of these neighborhoods date back to the 1850s. They feature high concentrations of Asian American families and businesses. In the past decade, investments from the Los Angeles government and businesses have helped to preserve much of the history and culture of its Chinatown, including the creation of a self-guided walking trail and the Chinese American Museum. Every year, more than a hundred thousand people flock to the L.A. area for the Golden Dragon Parade and Lunar New Year Festival.  
Another AAPI neighborhood in Los Angeles is Monterey Park, a neighborhood which became a popular place for Japanese American families to resettle after World War II. They were later joined by Taiwanese immigrants. Today, sixty-five percent of Monterey Park residents are Asian, and many influential AAPI politicians get their start here.
AAPI Growth, By the Numbers
Over the past decade, California's AAPI population has grown by 25 percent, making it the fastest-growing ethnic group in the state. In fact, today more than six million people of Asian descent live in California—meaning that the state is now home to one out of every three AAPI residents of the United States. They are the largest ethnic group in two counties: Alameda (home to Oakland and Berkeley) and Santa Clara (home to San Jose). The highest growth has occurred in the San Francisco Bay area, where 27 percent of residents (about two million people) identify as AAPI. Currently, the AAPI community makes up 15 percent of California's total population.
Rising Influence
This growth in numbers also leads to growing political power in the state. The California state legislature now has fourteen Asian American and Pacific Islander members. In April 2021, Rob Bonta was appointed as California's first-ever Filipino-American attorney general. Overall, California's AAPI population is well educated and has a high income. More than half of California's AAPI adults have a college degree (fifty-three percent, compared to thirty-one percent of California residents as a whole). Sixty-two percent own their own homes, and the median household income is $100,000, more than any other racial or ethnic group in the state.  
Dig Deeper Use Internet resources to learn more about Los Angeles' Golden Dragon Parade and Lunar New Year Festival, which bring hundreds of thousands of visitors to the area every year. What are some of the special traditions and festivities? Write a paragraph describing what you discovered.