Pride Month 2022
June is LGBTQ+ Pride month. Across the globe, June will feature celebrations, parades, marches, festivals, and more. Pride began in 1970 to celebrate gender diversity. The month-long observation also raises social awareness about issues faced by the LGBTQ+ community.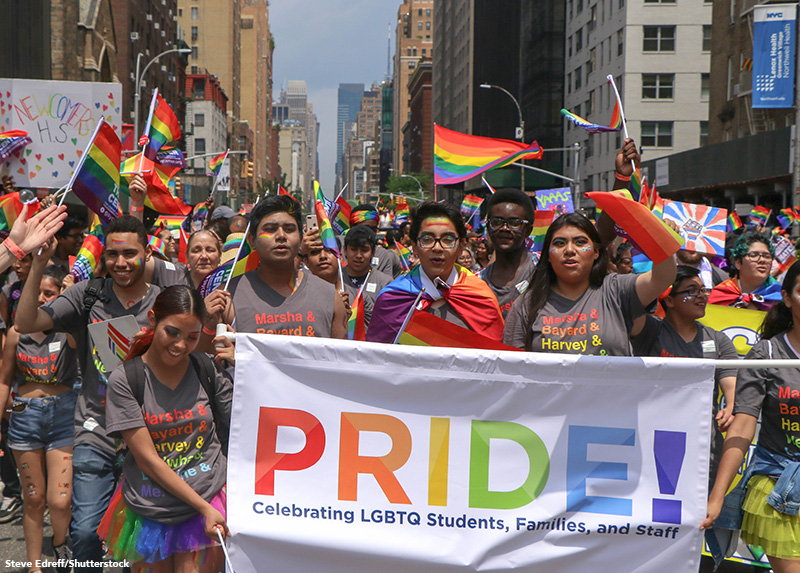 June was chosen to honor the Stonewall Uprising, which took place on June 28, 1969. The Stonewall Inn was an LGBTQ+ club in Manhattan that was regularly raided by the police. (Same-sex relationships were illegal in the 1960s.) On June 28, during another police raid, thirteen people inside the club were arrested. Crowds outside the Stonewall Inn began to gather and protest the ongoing police harassment. Violence broke out between police and protestors. The uprising lasted for six days.
New York City's first Gay Pride Day was celebrated one year later, on June 28, 1970. The New York City Pride Parade is one of the largest Pride events. Roughly half a million people attend each year. For example, other large Pride celebrations take place in other major U.S. cities including Baltimore, Maryland; Chicago, Illinois; Detroit, Michigan; Los Angeles, California; and Seattle, Washington.
In 1999, President Bill Clinton was the first president to proclaim June as Pride Month. On the last day of May 2022, President Biden echoed that first recognition by officially proclaiming June 2022 as Lesbian, Gay, Bisexual, Transgender, Queer, and Intersex Pride Month. You can read the full text of President Biden's proclamation on the White House website. 
Dig Deeper One of the most important symbols of Pride is the Pride flag. Do some research on the Internet or at your local library to learn more about the history of this flag.
Chima Williams Wins Environmental Prize
The Goldman Environmental Prize is awarded every year to people who have taken extraordinary steps to protect the planet. Chima Williams, a Nigerian lawyer, won the 2022 award.
In 2004 and 2005, major oil spills along Nigeria's southern coast caused significant ecological damage. The damage from the oil spills caused income declines for the farmers and fishermen in the area. Williams believed that the oil companies should be held responsible for the damage. He took up the challenge of holding the oil company responsible and pushed ahead with legal challenges. In 2008, he partnered with Friends of the Earth Netherlands to sue the Royal Dutch Shell petroleum company in international court. In January 2022, Royal Dutch Shell was found guilty. It must provide financial compensation to the Nigerian farmers and fishermen who were impacted by the spill.
Nigeria is the largest oil producer on the African continent. Oil makes up about ninety percent of its export revenue. Meanwhile, an estimated 240,000 barrels of oil are spilled or leaked in the area every year. This damages the environment and jeopardizes the safety of crops and drinking water. Royal Dutch Shell is responsible for about half of the total oil population of the Niger Delta area of southern Nigeria.
Dig Deeper Williams was just one of seven recipients of this year's Goldman Prize. Who were the others?
Biden Signs Federal Police Reform Order
On May 25, 2020, George Floyd was killed by Minneapolis police. Floyd was one of many African Americans in recent years who died during police arrests. Floyd's death caused nationwide protests during that summer. Many of these protests called for reforms of police arrest tactics. On May 25, 2022–the two-year anniversary of Floyd's death–President Biden signed an executive order reforming several police policies. Key points of the executive order include: 
Tightening restrictions on the use of police chokeholds and no-knock warrants (allowing officers to enter a residence without first alerting those inside) 
Requiring all federal agents to wear body cameras 
Creating a national registry of officers who have been fired for misconduct 
Restricting the transfer of military equipment to police departments 
Requiring police officers to intervene when they witness another officer using excessive force 
Requiring officers to provide medical aid for people who are injured while in police custody 
Despite issuing the executive order, President Biden can't directly order local and state police departments to change their policies. Those policies are under the control of state and local government. The president's executive order affects only about 100,000 federal police officers. Still, the White House would like state attorneys general to encourage law enforcement agencies to promote these practices. The Biden administration also plans to provide grants and other support to police departments to encourage these procedural changes.
Using Algae for Power?
Imagine that you could power your phone, smartwatch, or other device using a battery that never runs out? Now imagine that the battery is small, inexpensive, environmentally friendly, and uses only non-hazardous materials. As dependence on our digital devices continues to grow the need for a cheap, renewable, safe way to power them becomes more critical. Scientists estimate that there will be about one trillion devices in use by 2035. Some scientists may have found a possible solution: a power source based on algae and water.
How does it work? The power source is about the size of an AA battery. It contains a nontoxic, commonly found species of blue-green algae. The algae absorb sunlight and generate food through photosynthesis. It also releases a small amount of energy at the same time. When that small energy stream interacts with an aluminum electrode, it produces enough current to power a device. All the materials involved are inexpensive and recyclable. The key is that the photosynthetic device never runs down like a regular battery does. It continually produces its own electricity. All it needs is light to begin the photosynthesis process.
This is not the first time that scientists have explored using algae as a possible energy source. In Istanbul, Turkey, a refinery powered entirely by wind energy is working on turning algae into jet fuel, feedstocks, and fertilizers. Scientists estimate that the amount of jet fuel produced in the refinery will be enough to power a plane flight by the end of 2022. Algae has also been used to reduce methane emissions from livestock.
Dig Deeper Algae has many different uses besides as a potential power source. Do some research to find other ways that scientists are putting algae to work. Write a paragraph about what you find.