Archaeologists Discover Ancient Gold Coins
On October 3, 2022, Israeli archeologists found forty-four pure gold coins hidden in a wall in the Golan Heights. The coins date back to the seventh century and weigh about six ounces each. They feature the faces of Byzantine emperors Phocas and Heraclius. Scientists believe that the coins were hidden in the wall during the Muslim conquest of the area in or around 635 C.E. At the time, the area was ruled by the Byzantine Empire, though Muslims conquered several of the provinces in the area in the seventh century. Yoav Lerer, a member of the Israel Antiquities Authority, imagines that someone hid the coins in the wall and planned to come back to get them later—but was unable to do so.
The coins were found at Banias, an important spiritual site that has undergone several name changes in its history. Banias was once a Canaanite shrine to the god Baal; it was later renamed after the Greek god Pan. The Roman emperor Herod called it Caesarea after Emperor Caesar Augustus I. It is now part of the Hermon Stream Nature Reserve. Banias is located about 115 miles northeast of Tel Aviv and is currently Israeli-occupied. Besides the gold coins, other discoveries at the site have included bits of pottery, the remains of buildings, glass and metal fragments, other coins, mosaic floors, and engraved stones.
Dig Deeper The Emperor Heraclius, whose face appears on the gold coins, was a contemporary of the Prophet Muhammad. Who is Muhammad? If you don't already know, use Internet resources to learn more. Write a paragraph about what you discover.
North Korea Missile Tests
Last week, North Korea launched an intermediate-range ballistic missile (IRBM) over Japan. The missile was launched from North Korea's northern Jagang province at 7:23 am local time. TV stations in Tokyo and Japan's northern provinces warned people to take cover. The missile flew about 2,796 miles before landing in the Pacific Ocean.
This is not the first show of aggression from North Korea in recent weeks. In fact, the country has recently launched missiles seven times. But this was the first time since 2017 that North Korea has launched a missile over Japan. Former President Trump held summits with North Korean leader Kim Jong Un in 2018 and 2019. But by 2020 those talks had stalled and North Korea vowed to keep its nuclear weapons.
How do Korean missile launches impact the United States? The immediate concern is that the U.S. has naval bases in Guam, which are now within reach of North Korean missiles. The governments of the United States, Japan, and South Korea have all expressed concern that North Korea's frequent missile launches could be a sign that the country plans to resume testing nuclear weapons for the first time since 2017. North Korea has claimed that the missile tests are for self-defense purposes against direct threats from the U.S. military. In response, the United States has announced new economic sanctions against North Korea.
Dig Deeper To better understand the story, locate a map of the area and identify the following locations: North Korea, South Korea, Japan, and Guam.
Hispanic Heritage Month: Business Helped by Social Media
We often hear about the negative effects of social media, but what about when social media is used to help people? That's what happened in Anaheim, California, when two sisters used their social media skills to save their parents' struggling clothing business.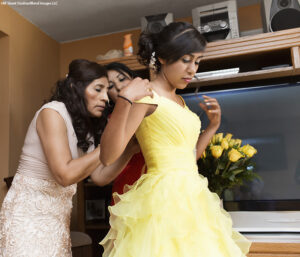 Gina and Jorge Rodriguez immigrated to the United States from Mexico. They started their business, a women's casual clothing boutique called Moda2000, in 1990. Once their daughters were born, Gipsy and Gelssy Rodriguez became an important part of the family business too. By the time the Rodriguez daughters were eight years old, they helped at the cash register. In 2007, the family decided to rebrand their store and focus on selling dresses for Quinceañera. In Latin America and Latino cultures throughout the world, a Quinceañera is the celebration of a girl's 15th birthday. This celebration marks the beginning of womanhood, and generally includes a reception or party with music, dancing, and food. The young lady wears a beautiful dress for this important day. While the Rodriquez family wanted to sell these dresses, changing the store's focus was expensive. The family had to sell their home and live in the store for three years to make ends meet.
All that changed when the Rodriguez daughters used their social media skills to post videos of the store's gowns to YouTube, Instagram, and eventually TikTok. Now, the store has more than 3.3 million followers on TikTok, 200,000 followers on Instagram, and its own YouTube show. People come from all over to buy their dresses. These days, Gipsy (25 years old) serves as the store's creative director, and Gelssy (23 years old) as the operations director. The Rodriguez family is proud that they never had to rely on outside help, loans, or donations to survive the difficult times and to make their dream a reality.
Dig Deeper If you're not already familiar with what a Quinceañera celebration is like, use Internet resources to learn more. Write a paragraph about what you find. If your family has experienced a Quinceañera, share with your classmates.
Loretta Lynn Dies at 90 Years Old
Country music legend Loretta Lynn passed away at her home in Tennessee on October 4, 2022. She was ninety years old.
Lynn was born Loretta Webb in 1932 to a Kentucky mining family with eight children. She married Oliver "Doo" Lynn when she was a teenager. Her relationship with her husband was marked by fighting, alcoholism, and infidelity. Loretta Lynn used all of these experiences to create her music. Lynn and Doo stayed married until his death in 1996. He secured her first musical performance and supported her musical career.
Lynn was the first female country singer to write a number one hit: 1966's "You Ain't Woman Enough (To Take My Man)." In 1976, she wrote a memoir called Coal Miner's Daughter. (The movie version, which came out in 1980, starred Sissy Spacek and won an Academy Award.) Over the course of her six-decades-long career, Lynn won three Grammys; the Academy of Country Music Entertainer of the Year Award; and a Presidential Medal of Freedom from President Barack Obama. She was also inducted into the Country Music Hall of Fame in 1988. Her song "Coal Miner's Daughter" was inducted into the Grammy Hall of Fame ten years later in 1998. Lynn never retired; in fact, she recorded her fiftieth album, Still Woman Enough, in 2021, at the age of 89. And if that isn't amazing enough: Lynn had no formal music training and was completely self-taught.
Dig Deeper Loretta Lynn's father, Ted, died at age 52 from black lung disease. What is that? Use Internet resources to learn more. Learn how Lynn's life was shaped by her early childhood and other challenging circumstances and summarize what you discover.