During World War II, thousands of Japanese American citizens and Japanese immigrants were removed from their homes and imprisoned in camps around the United States. Some remained in these camps for as long as three years. Until recently, no complete record of their names existed. Here, btw takes a closer look at the effort to create this list.
The Camps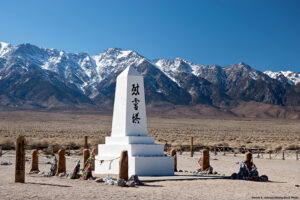 Following the bombing of Pearl Harbor by Japan, President Franklin D. Roosevelt signed Executive Order 9066. It declared that any people of Japanese descent, including U.S. citizens, were to be removed from their homes and placed in prison camps throughout the western United States. The camps were primitively built, surrounded by barbed wire, and were patrolled at all times by armed guards. Several families were forced to share each dwelling, and there was little privacy or comfort in the camps. Overcrowding and malnutrition were widespread issues. While held in the camps, people often lost their homes and jobs. In 1988, President Reagan signed the Civil Liberties Act that gave a formal apology for the imprisonment and paid $20,000 in compensation to each surviving victim.
The Names
Duncan Ryuken Williams was organizing a protest for Tsuru for Solidarity, a Japanese American advocacy nonprofit group. He planned to read from a list of names of Japanese Americans held in camps during World War II. When Williams realized that no such list actually existed, he began working to create it. It took a team of a dozen researchers and roughly a hundred volunteers about three years to collect all the names from the 75 camps used by the United States government. Williams is also the director of the University of Southern California's Center for Japanese Religions and Culture.
The Ireicho
The complete list contains 125,284 names. It is a handbound book called the Ireicho. The book is over a thousand pages long and weighs twenty-five pounds. Imbedded in it are bits of ceramic pieces made from the soil collected from the camp sites. Currently, the book is on exhibit at the Japanese American National Museum in Los Angeles. The exhibit is called Irei: National Monument for the WWII Japanese American Incarceration. The exhibit contains the Ireicho; the Ireizo–a website that also lists the names of detainees plus links to photos and camp newspapers; and the Ireihi–light sculptures displaying the names. The goal of the project is to recognize and honor every single person who was ever detained in the camps.
Visitors to the memorial are invited to place a Japanese hanko stamp next to a name in the book. This is to honor each prisoner's individual name and story. The Ireicho will remain on display at the Japanese American National Museum until September 24, 2023. If, on that date, there are still names in the book without stamps, the exhibit will continue until all of the names are recognized and stamped.