Banks help people save money for things they might want in the future. They also provide loans to help people get money to buy a car or a house, or to start a small business. Banks help businesses and communities grow. However, not everyone has the same access to banks.
The lack of access to banks and their services contributes to a wealth gap in the United States. Wealth is the amount of money and possessions a person has control over. The difference in wealth between the average White and Black American households today is about 6 to 1. For example, for every $100 of wealth held by an average White American household, the average Black American household has around $17 of wealth. To help address this inequality in a local community, Black leaders in Columbus, Ohio, recently opened Adelphi Bank.
Opening a Bank
Opening a bank takes a lot of time and money. The founders of Adelphi Bank had to get many investors, or people and businesses who put money into a company hoping to make a profit. The founders are largely leaders in Ohio's Black community, including former Ohio Treasurer Kevin Boyce and former Mayor of Columbus Michael Coleman. Boyce and Coleman convinced around 75 people and companies to invest almost $25 million dollars in Adelphi. Some of the biggest investors are other Ohio banks, such as KeyBank, Fifth Third, Park National, and Huntington.
Adelphi Bank
Adelphi Bank is one of 22 minority-owned financial institutions in the United States. It is the only Black- owned bank in Ohio and the first to open in the United States in the past 20 years. The founders located the bank in the King-Lincoln Bronzeville neighborhood, a historically Black community near downtown Columbus. The neighborhood contains residences, many small businesses, and the Lincoln Theatre, a landmark African American performance and jazz venue. The bank is also located near the site of, and took its name from, the first Black-owned bank in the area, Adelphi Loan & Savings Co. Like many other community banks, it closed many years ago during the Great Depression after serving the community for nearly 13 years.
Why are Community Banks Needed?
Adelphi Bank is a community bank. Community banks are important because they help meet the needs of people in a specific area, such as a neighborhood or small town. There are fewer community banks in the United States every year. In 1985, there were more than 13,000. By 2022, there were only 4,001. There are also very few community banks that are owned by minorities or located in minority neighborhoods. Opening a community bank like Adelphi in a minority neighborhood helps address the issues local people face. The people in minority communities are more likely to be "unbanked," –not to have a bank account, than those in white communities. In 2021 around 13percent of Black households were unbanked. Only 3percent of white households and 5 percent of Asian American households were unbanked in 2021.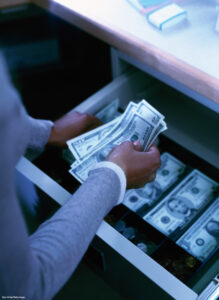 The reasons people are unbanked are complicated. Some people do not have a permanent address or the necessary documents to open a bank account. The minimum balance requirements for bank accounts also stop some people from using banks. For people who rely on public transportation, the lack of nearby locations prevents them from using banks. Some people also have a distrust of banks. The small size and neighborhood location of Adelphi Bank allows for more opportunities to address these issues that cause people to be unbanked. One of Adelphi Bank's stated goals is to help the unbanked set up bank accounts. Without a bank account, cashing checks or paying bills costs money and takes a lot of time. It is also very difficult or impossible to get a loan to pay for a house or a car without a bank account.
A Successful Bank
Many banks are struggling in the current economy. Inflation, or the rise in the price of goods and services over a period of time, continues to be high. The U.S. Federal Reserve has the job of trying to keep our economy and banks stable. One way the Federal Reserve tries to keep the economy steady is by raising the interest rates banks pay to borrow money. In turn, banks raise the interest rates they charge customers who take out loans. Higher interest rates are supposed to slow down the rate at which people spend money—and thus lower inflation. But it also means fewer customers want bank loans, and banks lose money.
The difficult economy has challenged black and minority-owned banks. However, the goals of community banks often help them stay open because they reflect the principles of the wider community. Adelphi Bank's stated goal of reducing wealth inequality appeals to businesses and people in the area, and the community continues to use the bank to support its stated mission.
Dig Deeper Use the internet to research two banks in your area. Identify the mission statement or goals of each bank. Also, research the minimum balance requirements, monthly fees, limits on check writing, and overdraft charges for the different kinds of checking accounts each bank offers. Make a chart to record your findings. Based on the information, which bank would you prefer to use? Why?