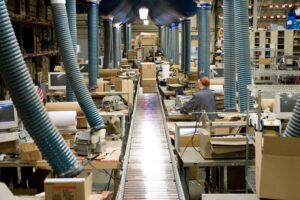 The coming holiday season means, among other things, Amazon boxes on doorsteps and Amazon trucks on the highway. For many of us, it can be hard to remember a time before the online shopping giant. Ever since Amazon announced that they would be building a second U.S. headquarters–known as HQ2–cities large and small have been scrambling to create proposals to lure in the company–and their jobs. Now, Amazon has finally announced a surprising decision. Here, btw takes a look at where HQ2 will be located, and what the potential benefits–and costs–may be for the chosen communities.
What Were They Looking For?
The competition to become the location of HQ2 began more than a year ago and involved 238 bids from cities all over the United States and Canada. Amazon announced publicly that the city it ultimately chose would need to have a large pool of highly educated workers, access to an international airport and mass transit, and a pro-business tax structure. Unofficially, rumors circulated that the company expressed other preferences as well, such as states with pro-LGBTQ inclusion laws, and cities with robust and innovative nightlife and parks and recreation systems.
What is Gained?
Last week, Amazon finally announced that it will be splitting its new headquarters between two cities: New York City (specifically, Long Island); and Arlington, Virginia, a suburb of Washington, D.C. The chosen cities may gain a lot economically. The company plans to invest a total of $5 billion and provide more than 25,000 jobs, each paying upwards of $150,000 per year, to both cities. And over the next ten years, Amazon has estimated that it will generate about $10 billion in extra tax revenue in New York and roughly $3.2 billion in Arlington.
What is Lost?
Despite this, there are still plenty of criticisms circulating about the decision. First, the biggest draw of having Amazon come to a city is the large number of high-paying jobs it will bring to an area. But in New York City and Washington, D.C., average salaries are already in the six-figure range. Moreover, because of the high cost of living there, these salaries don't stretch as far as they would other places. Both cities also already struggle with major traffic congestion issues, which will (most likely) only worsen once Amazon sets up shop in town.
The Battle Over TIAs
But perhaps the biggest point of controversy centers around tax incentives agreements (TIAs). These are essentially deals that cities make to try to bring businesses to their community. A city might offer a corporation a hefty tax break or free land because the corporation promises to deliver a certain number of high-paying jobs to the community. This exchange is an important economic tool for cities, but many people argue that it's overused and that it's unfair for large, wealthy corporations not to have to carry their share of the tax burden. It's estimated that cities and states give away about $70 billion a year in TIAs.
As cities scrambled to lure Amazon, they often made offers that are surprising even by TIA standards. For example: Montgomery County, Maryland, created the PRIME Act, which was essentially a $6.5 billion tax incentive package plus another $2 billion to renovate infrastructure. Philadelphia, Pennsylvania offered the company $4.6 billion in tax breaks and an additional $100 million to improve infrastructure around the headquarters. As for the winning cities: Amazon has revealed that over the next twelve years, it will receive incentives from the state of New York totaling $1.525 billion and an additional $573 million from the Commonwealth of Virginia.
What Do You Think? Based on the article and what you've heard and seen in the news, do you agree with cities using TIAs to draw in businesses? Why or why not?