Dr. Buu Nygren became the Navajo Nation president on January 10, 2023, in Fort Defiance, Arizona, after campaigning to improve public services and the economy. Nygren's presidency makes history. He is the youngest Navajo Nation president at 36, and he has never held political office. His running mate, Vice President Richelle Montoya, is also the first female to hold the position. Nygren will lead approximately 400,000 members of the nation. Here, btw takes a closer look at his life and election.
Who is Buu Nygren?
Buu Nygren was born in the Utah section of the Navajo Nation in 1986. He was raised by a single mother who was Navajo. His father, whom he never knew, was Vietnamese. Nygren grew up in poverty without running water or electricity. During his campaign, Nygren frequently spoke about how his childhood experiences influenced his anti-poverty attitude. Early on, Nygren worked a variety of jobs to help support his family, including construction laborer, carpenter, and dishwasher. With encouragement from native elders, he pursued higher education. He holds a bachelor's degree in construction management and a master's degree in business from Arizona State University. He earned a doctoral degree in education from the University of Southern California in 2021. Nygren's professional background is in construction management. Before becoming president, he worked as the Chief Commercial Officer for the Navajo Engineering and Construction Authority. An advocate for tribal business development, Nygren has served as the first board president of Change Labs, a non-profit organization that supports Navajo and Hopi business owners. Nygren lives with his family in the Navajo Nation
Campaign Themes
Nygren ran for president because he wanted to offer hope to struggling families and improve public works, such as water, roads, and broadband Internet across the Navajo Nation. The three key themes of his campaign were competence, compassion, and teamwork. To him, competency meant having staff that could solve problems for Navajo families. Campaigning on compassion meant that Navajo leaders should serve with empathy, or the ability to understand what other people are going through. Nygren believes that his business and management experience will help him select strong staff members to build his team.
Navajo pride was another feature of Dr. Nygren's presidential campaign. He expressed his pride by making the Navajo language a central part of his campaign. He gave speeches and comments in Navajo. His proposed education policies included expanding Navajo language development programs in schools. On the campaign trail, Nygren expressed his Navajo heritage by wearing Navajo (Diné) turquoise jewelry, a wide-brim hat, and his hair tied into the traditional Navajo bun.
What are Nygren's Presidential Priorities?
President Nygren's priority is delivering public services, which he describes as his guiding principle. The administration is working to expand access to water, improve roads, and install broadband Internet services in the Navajo Nation. Roads are a public safety and economic issue that impacts rural communities. If roads are unsafe, then families struggle to drive to work, and school buses may not reach rural children. One of Nygren's first presidential phone calls was to Deb Haaland, the Secretary of the U.S. Department of the Interior, who is also Native American. They discussed the importance of paving and sealing dirt roads in the Navajo Nation, as part of Nygren's plan to fix infrastructure and improve public health.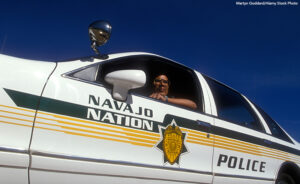 Improving the Navajo economy is another top priority for President Nygren. The administration intends to reduce barriers to economic progress. One proposed policy includes establishing job and apprenticeship centers to train young people who do not want to attend college. Expanding economic opportunities by attracting manufacturing companies to the Navajo Nation is another priority. Offering Navajo government support to craft vendors and retailers will help sustain small Navajo businesses. Nygren recognizes that economic development results in better pay, which is necessary for lifting families out of poverty.
Change is on President Nygren's mind as he begins to execute his proposals. Nygren expects the Navajo people to hold him accountable for the issues he has pledged to fix. As his administration looks to the future, he plans to focus on delivering public goods, solving financial challenges, and improving opportunities for all Navajos.
Dig Deeper Go to the Navajo Nation website to learn more about how the Navajo Nation government functions. What branches make up the nation's government? How is the Navajo government similar to and different from the government of the United States?